An Insider's Guide to NYC's Best Outdoor Event Venues
From the playlist to the drinks to the VIP guest list, there's a lot to consider when planning a summer event—but the most important consideration is the venue. If you want to host the most memorable event of the summer, book one of the best outdoor party spaces in Manhattan. Here, we'll walk you through all of them.
Soho Grand's Most Loved Outdoor Party Spaces
Soho Grand is home to the city's best outdoor event venues. Get to know our most popular outdoor spaces, from quaint gardens to chic rooftops.
Take one step through the gated entrance of this outdoor NYC venue and you'll forget you're in Soho—its vivid decor and oversized plants transport you to an Island-like oasis, especially when the summer sun is shining overhead. Guests can mingle by the walk-up bar, chat on beach-inspired chairs shaded by umbrellas, or enjoy one of Gilligan's famous watermelon margarita pitchers at a weathered-wood table. It's the perfect spot for a lively outdoor birthday party or bridal shower, or even a corporate happy hour.
Gilligan's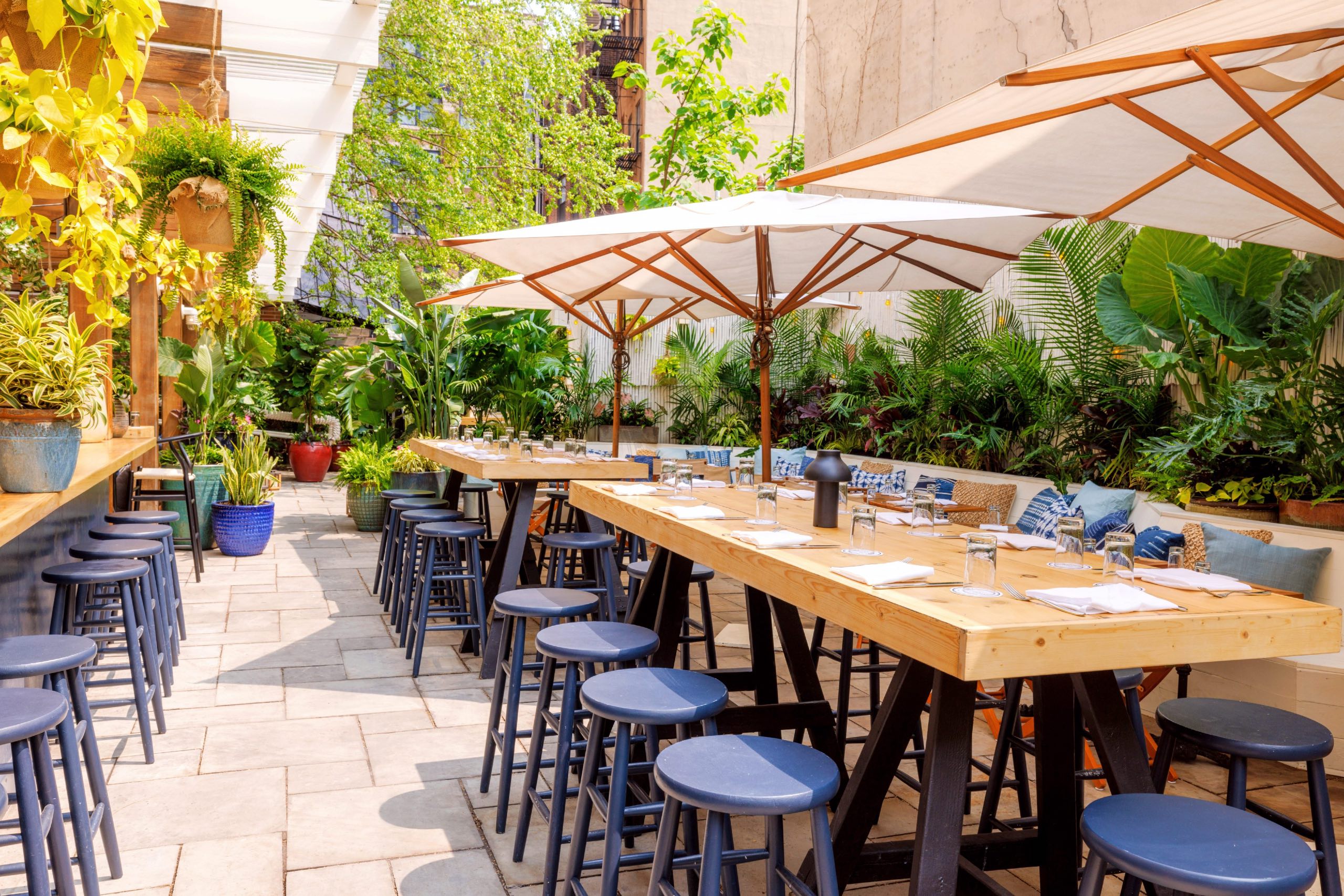 One of the most charming outdoor party venues in NYC, Soho Diner's Outdoor Garden feels like something out of a 1960s-era romance film. Its towering, greenery-covered gateway entrance opens onto a patio with tables, vintage-inspired umbrellas, and overhead string lights for a magical touch. It offers space for up to 75 guests, making it a great option for intimate summer receptions or birthday parties.
Soho Diner Outdoor Garden
Soho Grand's Loft North and Loft South terraces make for spectacular outdoor wedding reception venues and bachelorette party spots. Both offer 1,200 square feet of rooftop event space, where guests can sip summery cocktails on modern outdoor furnishings while enjoying the fresh air and sweeping views of downtown Manhattan, from Tribeca to the Lower East Side.
Loft South Penthouse Terrace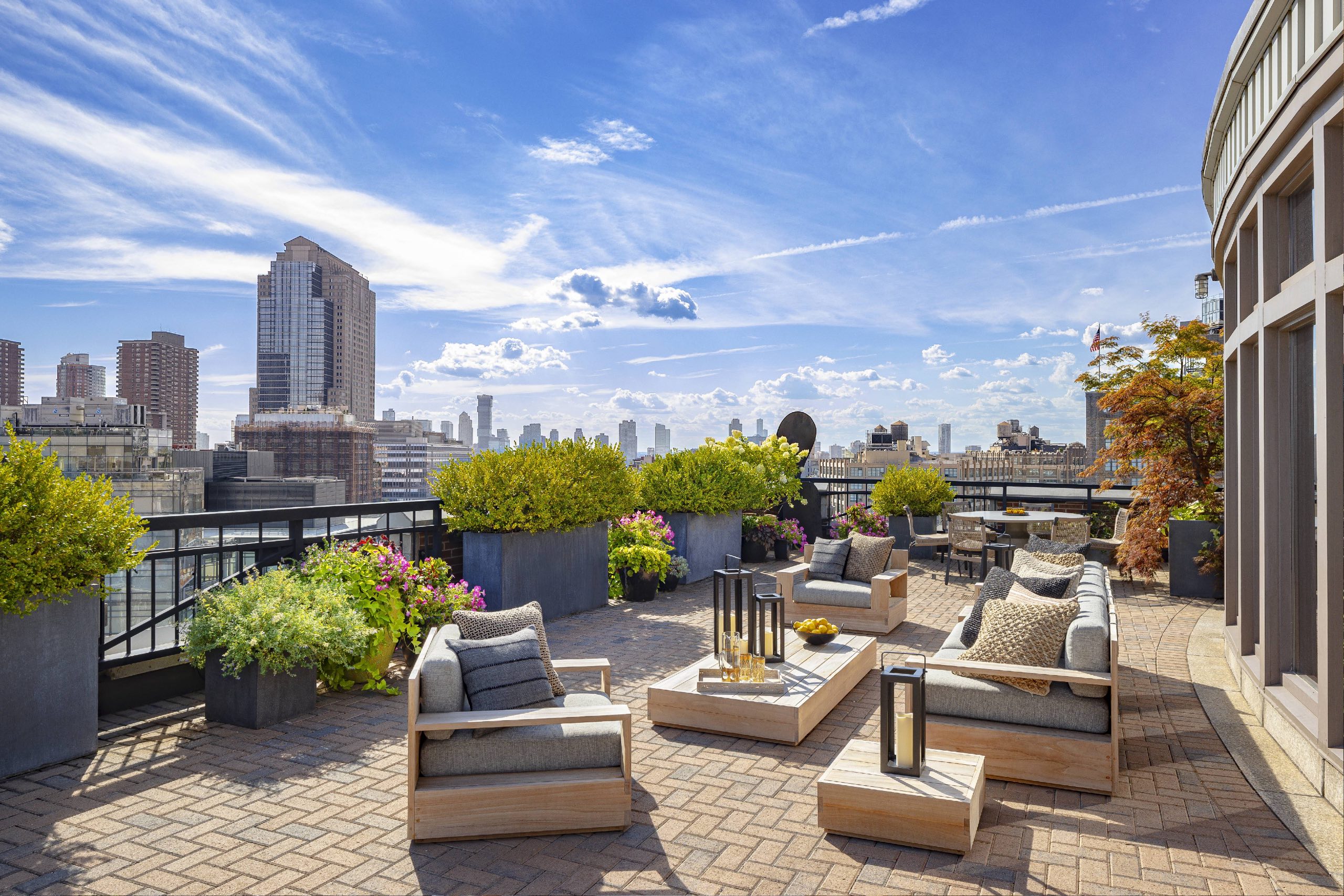 A Few More Summer Event Spaces in Manhattan & Brooklyn
If you want to explore a few more outdoor event spaces in Manhattan and Brooklyn before deciding on a venue, you can't go wrong with these classic spots.
The Roxy Hotel's Roxy Penthouse Terrace has Marshall speakers for your party playlist, a wet bar, stylish outdoor seating options, and stunning views of downtown Manhattan—in other words, it's an undeniably cool spot for everything from bachelor parties to product launch events. For larger events, check out The Rooftop at Pier 17, a 65,000-square-foot waterfront venue overlooking the East River. For a more casual outdoor event space, The Farm Rooftop in Lower Manhattan hosts up to 50 guests and looks out onto the area's historic low-rise buildings.
There's an array of top-notch outdoor event venues in Brooklyn, too. For something that feels extra private and picturesque, consider Dobbin St in Williamsburg. This 3,000-square-foot rooftop terrace venue has views of the Manhattan skyline and a hidden courtyard area enclosed by 19-foot walls for your privacy. Also in Williamsburg, The Roof at 74Wythe is a posh, multi-level event space with four terraces that open up onto one another—plus retractable glass enclosures to keep your party dry in the event of summer showers.
Book the Outdoor Event Venue of Your Dreams
Soho Grand tops the list for the best outdoor event venues in New York City, with Roxy Penthouse Terrace, Dobbin St, The Rooftop at Pier 17, The Roof at 74Wythe, and The Farm being great options as well. Whether you're planning a corporate event, wedding, or birthday party, these outdoor event spaces in NYC will deliver everything you could dream of and so much more.
You May Also Like