As the first boutique hotel in downtown Manhattan, Soho Grand's pioneering spirit runs deep. We're the classic that never goes out of style, because we have always offered an inimitable experience - now more than ever.
Live Entertainment
Seeing some of the best talent in the city is just an elevator ride away from your room. Club Room is glamorous and swanky, filled will music that shimmers with hope and crackles with stakes. Tuesday through Saturday starting at 6pm, you'll experience live music and entertainment – performed by New York legends themselves. After dark, we can ensure you the dance floor gets groovy with nightly guest DJs. For a full event schedule, please visit
our website
or call 212.965.3588.
Soho Grand Dog Park
Bring along your good girl or boy. Our much barked-about Soho Grand Dog Park is open to hotel guests and members only. Brought to life by renowned landscape designer Rebecca Cole, the new park features fire hydrant water stations, bespoke benches and a peaceful garden design. Sit, stay. Your room key will grant access to the park.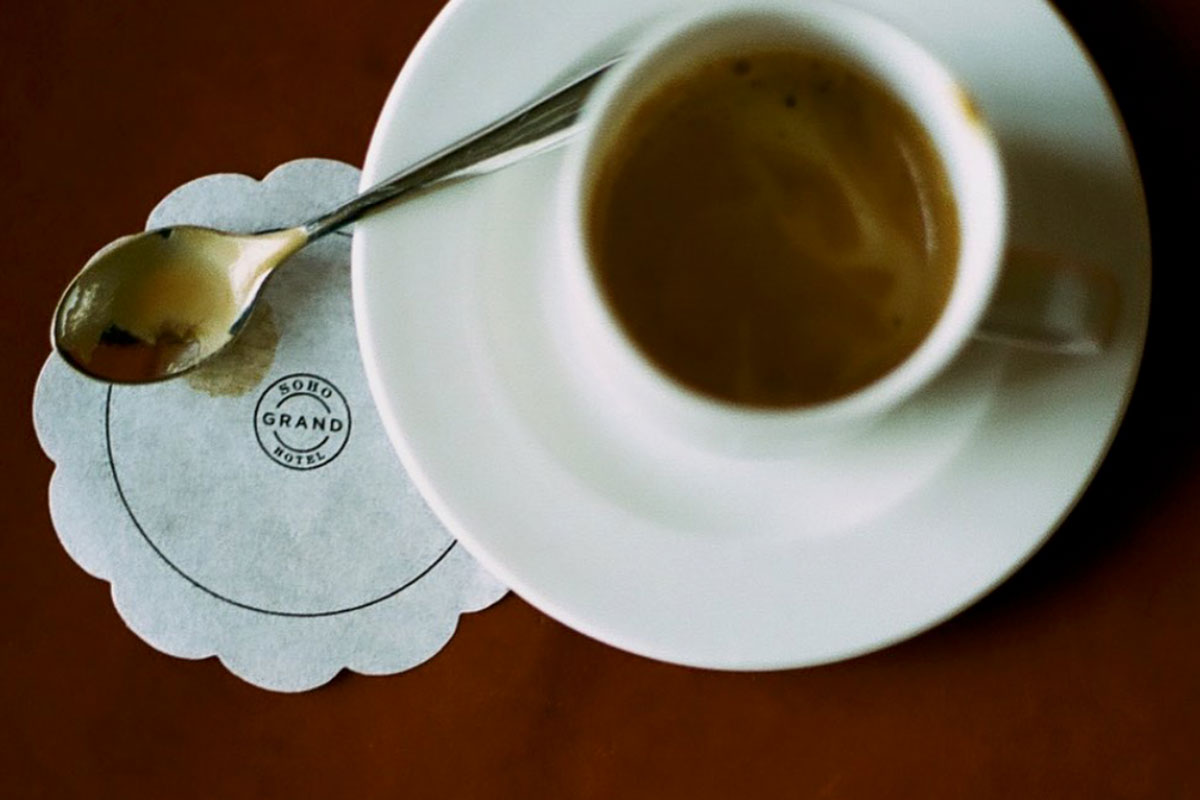 Complimentary Coffee
Before heading out onto the concrete catwalk, robe up and curl your hands around a cup of joe within the comfort of your own room.
The Django Jazz Club Admission
Seeing some of the best talent in the city is just around the corner at our swinging sister, The Roxy Hotel. Descend into The Django jazz club and you'll feel like you've entered another world. Two cocktail bars dispense throwback potions, and an open dining space surrounds a stage that hosts top-notch live performances. Bring your room key to enter, dancing shoes are recommended along with reservations. There is a 2 drink minimum per person. For a full event schedule and reservations, please visit
our website
or call 212.519.6649.
Roxy Cinema Tickets
NYC has some of the best independent theatres in the world – and one of them is located in the the cellar of The Roxy Hotel. Steeped in Art Deco grandeur and specializing in classic, independent and foreign film, Soho Grand hotel guests receive tickets to screenings and snacks (for purchase) from our old-fashioned concession stand. Show your room key and enjoy the show! For showtimes please visit
our website
or call 212.519.6820.
The Wall Street Journal
Catch up on the latest headlines or treat yourself to a delicious fashion editorial - straight from your (ink-free) fingertips. Premium digital access to The Wall Street Journal is available for all guests by signing into the Soho Grand WiFi network and visiting wsj.com
New York Times
Extra, extra! Read all about it with unlimited digital access to the New York Times. Simply log into our Wifi network and visit NYTimes.com to catch up on the latest news.
Premium WiFi
NYC is famous for its quick pace, which shouldn't change when it's time to catch up on e-mails or a favorite show in the comfort of your room. Our premium high-speed WiFi ensures there will be no breaks in the action.
Smart TV Streaming Capabilities
Each room is equipped with Samsung Smart TVs with Sonifi streaming capabilities all at your fingertips. Just log in and watch your favorite TV shows and films on Netflix, Hulu, HBO Go or your digital provider du jour.
Curated Neighborhood Guide
It can take many years of making friends (and mistakes) to eventually be plugged into the best happenings in NYC. Lucky for you, between our design and entertainment-focused clientele and employees, we're always wise to the hottest new restaurants, gallery openings and under-the-radar boutiques. With our carefully-curated GrandLife
Neighborhood Guide
, we pass on all of that intel to you.
Bike Program
Soho Grand has a fleet of handsome cruisers for seasonal use by Brooklyn Bicycle Co. Pedal up the Hudson River waterfront, or across the Brooklyn Bridge – the views are unforgettable. First come, first serve so dial up your wheels at Guest Services 212.965.3000.
24-Hour Fitness Room
We know you're here to work, play or a unique combination of both that might have you wanting to exercise when most people are coming home from the bars. You're covered here. Our fitness room is always open for runs, squats and bicep curls, morning, noon and night – offering wellness equipment by Techno Gym, Peloton bikes, free weights, plus a balcony that accommodates stretching or yoga with a neighborhood view.
24-Hour Concierge
There is precious little that our Concierge can't do, answer or get for you. Ours is on call 24/7. Concierge offers an intimate introduction to the city as seen through the eyes of those who call it their home – ready to share the hidden gems in NYC dining, culture, shopping, nightlife, fashion, music and art. As a guest at Soho Grand one of the prized perks includes special offers at a number of stores and boutiques throughout the neighborhood.
Domestic Long Distance Calls
Charging your cell phone but need to call up a business contact in L.A.? Domestic long distance calls are on us. Ring-a-ling to your heart's content.
Blackstone Salon Services
Blackstones Salon is Tribecas outpost of Joey Silvestera's popular cutting room in the East Village, located inside the Roxy. Sleek and futuristic, and stocked with Joey's own line of products, it's always a nice day for a little reinvention at Blackstones. Plus, All Access guests receive 20% off salon services. Get New York Dolled and book your appointment by emailing TheRoxy@BlackStonesNYC.Com or calling 646.666.0574
GrandLife Rewards
Become a GrandLife Rewards Member. The program is simple: members receive 1 point for every dollar spent when you book with us directly at Soho Grand or The Roxy Hotel. Points may be used for things like free nights, room upgrades, dining & entertainment, minibar credits and more. GrandLife Rewards is designed to provide guests with access to some of the city's best experiences. Get points. Be rewarded. Lowest rate guaranteed. Visit
GrandLifeRewards.com
to sign-up.